Blistered Shishito Peppers
Shishito Peppers – Blistered or Pan Roasted – Easy Appetizer Recipe
Shishito Peppers – Blistered or Pan Roasted – Easy Appetizer Recipe
Salty, delicious and so easy to make, these blistered shishito peppers are oh so snackable and perfect with a margarita! (Dairy-free + Gluten-free)
These thin-skinned little peppers are so good when sautéed and charred. Most shishito peppers are mild, but about one out of 10 can get a little spicy. Serve these up with a chipotle aioli for an irresistible appetizer or snack.
About blistered shishito peppers
Have you tried blistered shishito peppers yet? If not, you're in for a treat! These little mild peppers are so addictive, and are great with pre-dinner margaritas or a beer. I first discovered these peppers years ago, and have since seen them pop up at some of my favorite local restaurants. We always devour an order when we frequent our local taco spot, but they are so easy to make at home too!
I love this appetizer because:
It's a great vegetarian, dairy-free, gluten-free crowd-pleaser
It's SO easy to make
Shishito peppers are addicting
How to make blistered shishito peppers
Blistered shishito peppers are so easy to make — you barely even need a recipe! You can even eyeball the amount of peppers and oil, depending on how many people you are serving, all you need is enough oil to coat the bottom of your skillet and enough peppers to fill your skillet without overcrowding.
Here are a few tips:
Wash and thoroughly dry the peppers before cooking to minimize oil splatters when you add the peppers to the skillet.
If you're cooking a large number of peppers, try adding them to a salad spinner after rinsing and then finish drying them with a paper towel to make the process easier!
Heat your cast iron skillet over medium-high until it's hot enough that drop of water sizzles and quickly evaporates. The key to getting a good char without ending up with soggy peppers is to cook them at a high temperature and a preheated cast iron skillet so they blister the second they hit the oil (the popping sound you might hear is a good thing!).
Next, add the vegetable and sesame oil, and let it heat until the oil is shimmering. Then add the peppers and let them char for a minute on the first side before flipping with tongs. Continue to flip the peppers every minute until they are blistered and charred on all sides, and beginning to soften.
Lastly, transfer the peppers to a serving dish and finish them with a sprinkle of flaky salt (I love Maldon flaky sea salt) and sesame seeds. They're great when they are served simply, or try them with a chipotle aioli dipping sauce to take them to the next level!
Serve warm (right away — this is not an appetizer that does well when prepared ahead of time) and don't forget a separate bowl for the discarded stems!
Frequently asked questions
You can eat these simply with a sprinkling of salt and sesame seeds, but if you want to dress them up a bit, try dipping them in a chipotle or lemon pepper aioli!
Shishito peppers are a great snack or appetizer all on their own. We always get these at our local taco spot, Machete — they go well with a margarita and tacos, or with Asian-inspired flavors!
You can store any leftovers in an air-tight container in the refrigerator for 3-5 days, but I would recommend eating these fresh for the best flavor and texture.
This recipe works best with fresh shishito peppers. Because you want them to get crispy and maintain their crunch, I would not recommend using frozen shishito peppers.
I love blistering them and serving them warm with a sprinkle of flaky salt and sesame seeds. Make sure you grab an extra bowl for the stems!
You can find them at most grocery stores, next to the jalapeños — I tend to get mine at Trader Joe's in the refrigerated foods section near the produce.
Generally, shishito peppers are pretty mild, but about one in 10 peppers are a bit spicier — that's part of the fun!
Grab the pepper by the stem and eat the whole pepper, discarding the stem. They're even better if you dip the pepper in a little chipotle aioli before enjoying!
Blistered shishito peppers are a great vegetarian, gluten-free, dairy-free easy appetizer!
Related recipes
Looking for more quick and easy appetizer recipes? Try these:
Before you go…
If you make these blistered shishito peppers and love it, please leave me a comment and rate this recipe! I love to hear from you do my best to respond to each and every comment. And of course, don't forget to tag me on Instagram — seeing your delicious creations is my favorite!
Print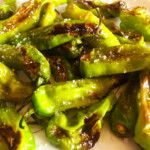 Blistered Shishito Peppers
Prep Time: 5 mins
Cook Time: 5 mins
Total Time: 10 mins
Yield: 4 servings 1x
Description
Salty, delicious and so easy to make, these blistered shishito peppers are oh so snackable and perfect with a margarita!
Ingredients
1 tablespoon vegetable oil
1 tablespoon sesame oil
8 ounces shishito peppers, rinsed and dried
Flaky sea salt, to taste
Toasted sesame seeds, optional
Instructions
Place cast iron skillet over medium-high heat. Once skillet is hot, add the vegetable oil and sesame oil.
When oil is shimmering, add the peppers to the pan and sauté for 3 to 5 minutes, turning the peppers frequently with tongs.
Once peppers are blistered and charred all over and have begun to soften, remove from the pan and place on a paper towel to drain excess oil.
Transfer peppers to a bowl or a serving platter and sprinkle with sea salt and toasted sesame seeds; serve hot.